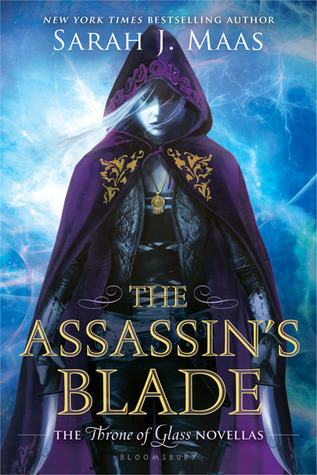 Title: The Assassin's Blade
Author:  Sarah J. Maas
Publication Date: March 4th 2014
Publisher: Bloomsbury Childrens
 Part of a Series?: Yes, prequel of Throne of glass series
Genres: Young adult, fantasy, Romance
Celaena Sardothien is Adarlan's most feared assassin. As part of the Assassin's Guild, her allegiance is to her master, Arobynn Hamel, yet Celaena listens to no one and trusts only her fellow killer-for-hire, Sam. In these action-packed novellas – together in one edition for the first time – Celaena embarks on five daring missions. They take her from remote islands to hostile deserts, where she fights to liberate slaves and seeks to avenge the tyrannous. But she is acting against Arobynn's orders and could suffer an unimaginable punishment for such treachery. Will Celaena ever be truly free? Explore the dark underworld of this kick-ass heroine to find out.
Rating- 4/5
Before picking up the book
Before I joined bookstagram and the blogging world, I didn't know anything about Sarah J Maas. I did know about other popular fantasy authors, such as Cassandra Clare and Rick Riorden but I had never heard her name. As soon as I joined Bookstagram, *boom* and my feed was full of people gushing about her and her books. I read thousand of posts about Celaena Sardothien and her badassness, how perfect Rhysand is and how awesome SJM is. I became curious and got The Assassin's Blade, prequel of TOG.
The book
1. The writing. 
OMIGOSH! I loved the writing. Now I can totally see why people call her the queen. And she deserves it ALL! Her writing is so flow-y and beautiful and eloquent and just perfect. Its detailed, yet never becomes too heavy. I HAVE BECOME A FAN!
2. Celaena Sardothien
I started with not liking Celaena, then liking her, and then LOVING HER! She is unlike any other YA female protagonist. She is vain and caring, she is fire and ice, she is kickass and soft, she is just awesome! I am so grateful to SJM that she didn't turn her into another of the girls who are beautiful-but-don't-know. Celaena is beautiful and she knows it. Rather she takes pride in that. She carries scars from her past and she is powerful. I really really like her!
3. Story
I absolutely loved all the stories! Especially the last two stories were just phenomenal. The pain and the betrayal and the angst made me so SO sad and angry. SJM plays with the emotions too well!
After reading the book
I am SO READING TOG SERIES NOW! And SJM's writing is absolutely magical. It was so fun reading this book!
"My name is Celaena Sardothien," she whispered, "and I will not be afraid." 
Are you a SJM's fan? What do you suggest I read next? TOG or ACOTAR?